No-Cost Services
Located within the Rust Belt, northern Ohio has a tradition of manufacturing and is home to factories, plants, and other blue-collar jobs. Northern Ohio is also home to individuals who presently work for the Department of Energy or who worked for the Department of Energy (DoE) in the past and who, during their work, were exposed to harmful radiation and as a result developed serious medical complications. These medical conditions and illnesses can require extensive – and expensive – treatment in order to properly manage.
United Energy Workers Healthcare may be able to help individuals such as this obtain no cost medical treatment and services under The Energy Employees Occupational Illness Compensation Program Act (EEOICPA) and/or The Radiation Exposure Compensation Act (RECA) program. United Energy Workers Healthcare can also provide these medical services: we bill the EEOICPA and/or RECA programs directly, so the individual pays nothing.
What are the EEOICPA and RECA Programs?
Under EEOICPA and RECA, qualifying individuals are able to receive medical care, services, and management of certain long-term cancers and conditions free of charge. In order to be a "qualifying individual" under the EEOICPA program, a person must be a current or former DoE employee who was exposed to radiation at a DoE facility during their employment. Under RECA, qualifying individuals include those who mined or milled uranium, who transported ore, and/or those who lived downwind of nuclear testing sites and who were also exposed to radiation.
Qualifying under either program also requires the demonstration that the person developed a qualifying illness or condition as a result of the radiation exposure. Qualifying conditions include leukemia, brain cancer, multiple myeloma, kidney or bladder cancer, as well as noncancerous conditions like chronic silicosis, pulmonary fibrosis, and/or beryllium sensitivity.
Once it is determined that a person qualifies to receive services under either EEOICPA or RECA, that individual may be able to visit their doctor, complete inpatient or outpatient hospital procedures, obtain prescription drugs and medical devices, and/or be transported by ambulance (if necessary) without having to pay a copay, deductible, or any amount out-of-pocket. In many cases, beneficiaries can also receive health services through a provider that visits them in their home on a periodic basis.
Contact United Energy Workers Healthcare Right Away
If you are a current or former Department of Energy worker, if you mined or milled uranium, or if you lived near a nuclear testing site, and you live in Clyde or elsewhere in northern Ohio you may be entitled to significant medical benefits under the EEOICPA and/or RECA programs. By contacting United Energy Workers Healthcare as soon as possible, we can help evaluate your eligibility for benefits and, if approved to receive benefits, provide you with the full range of services you need to properly manage your condition(s). If you reside in northern Ohio, you can reach the Clyde, Ohio office of United Energy Workers Healthcare by visiting us in person at:
422 East McPherson Hwy
Clyde, Ohio 43410
You may also reach our Clyde, Ohio office by telephone: 631-897-8007.
Who We Serve
Do you have this card?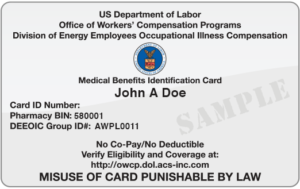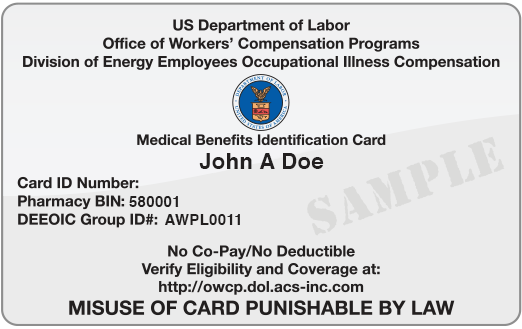 If you already have this card, then you are already approved to receive no-cost medical benefits! Call us to get started today.
In order to be eligible for EEOICPA/RECA benefits, an individual must have been employed at a covered Department of Energy facility, an approved atomic weapons facility, or at a permitted beryllium vendor. An individual must also have one of the covered conditions as a result of exposure to radiation, beryllium, or silica while employed at an accepted facility. In addition, uranium miners, millers, and ore transporters are eligible for benefits if they develop an illness as a result of exposure to toxic substances (such as radiation, chemicals, solvents, acids, and metals) and worked at a facility covered under RECA. Eligibility requirements vary by location and condition.