EEOICPA Covered Facilities
In 2000, Congress passed the Energy Employees Occupational Illness Compensation Program Act (EEOICPA) to compensate and care for Cold War nuclear workers that worked at an approved Department of Energy site. These energy workers were put at risk by exposure to hazardous materials, much of the time without their knowledge or consent.
Even small amounts of exposure to radiation, uranium, beryllium, or other toxic chemicals can cause harm-leading to a lifetime of hardship. Facilities covered by the EEOICPA number in the hundreds and span nearly all 50 states. Upon approval, former workers can receive monetary compensation and free medical care for the conditions related to working at EEOICPA covered facilities.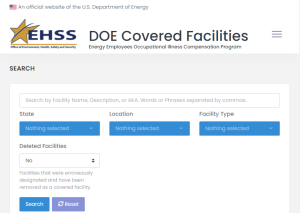 Clicking the button below will take you to the U.S. Department of Energy's website.