Table of Contents
Understanding EEOICPA
Understanding The Energy Employees Occupational Illness Compensation Program (EEOICPA) can be confusing. Don't worry, we're here to help!
The Energy Employees Occupational Illness Compensation Program Act (EEOICPA) is a federal program created to compensate nuclear weapons workers who were made ill by work done in the US nuclear weapons industry beginning in 1941. EEOICPA also provides medical benefits for approved illnesses. The mission of the program is to provide lump-sum compensation and health benefits to eligible Department of Energy nuclear weapons workers (including employees, former employees, contractors and subcontractors) and lump-sum compensation to certain survivors if the worker is deceased. EEOICPA also compensates surviving family members of deceased workers.
The Energy Employees Occupational Illness Compensation Program (EEOICPA) includes two separate benefit programs: Part B and Part E.
Part B of the EEOICPA provides eligible employees or survivors with lump-sum compensation up to $150,000, and pays full medical expenses for accepted conditions. In addition, it may provide for a smaller lump-sum compensation of $50,000 to individuals who qualify under the Radiation Exposure Compensation Act (RECA).
Part E provides eligible employees or survivors with compensation payments up to a maximum amount of $250,000, plus medical expenses for accepted conditions.*
*Source: http://www.benefits.gov/benefits/benefit-details/565
How to qualify for EEOICPA benefits and file a claim:
The Energy Employees Occupational Illness Compensation Program (EEOICPA) began on July 31, 2001 with the Department of Labor's implementation of Part B; Part E implementation began on October 28, 2004. In order to qualify the patient must have been diagnosed with cancer or any other illness caused by chemicals or toxins and who worked at one of the covered DOE facilities.
To be eligible, an employee must have sustained a radiogenic cancer, chronic silicosis, beryllium sensitivity, or chronic beryllium disease while in performance of duty at a covered DOE facility, atomic weapons employer, or a beryllium vendor during specified time periods that vary by facility. Part E provides benefits to eligible current or former employees of DOE contractors or subcontractors, to certain uranium workers who developed a covered illness as a result of exposure to any toxic substance at a DOE facility or RECA Section 5 mine or mill, and to qualified survivors of such individuals as provided in the Act.* *Source
Anyone who is a survivor, as defined by the law, of a worker who died of cancer or chemically caused illness and worked at one of the covered DOE facilities may also file a claim.
If you are interested in filing a claim on behalf of your self or a loved one, we have several professional advocates that we can recommend. Advocates have the ability to provide a free analysis of your claim, represent you in your claim and help you collect medical, employment, and other information required for your claim. Also, their fees are set by statute and will equate to only 2%-10% of your total tax free settlement.
Who is considered a survivor?
Survivors are defined differently for EEOICPA Part B and Part E.
Survivors under Part B include:
Spouse of a worker, married for at least one year

Or a child if there is no living spouse

A parent if there is no living spouse or child

A grandparent if there is no living spouse, child or parent, a grandchild if no surviving spouse, child, parent, or grandparent
Survivors under Part E include:
A spouse of a worker, married for at least one year

If there is no surviving spouse, children who were under age 18 at the time of the worker's death, and children up to age 23 if in college at the time of the workers death, or children any age if unable to work because of medical disability at the time of the worker's death
Understanding RECA
Radiation Exposure Compensation Act (RECA) is also a federal program for uranium industry workers, such as: uranium miners, millers, and ore transporters. RECA provides payments to persons (or payments to their surviving beneficiaries) who developed certain diseases as a result of their exposure to radiation from US atmospheric nuclear-weapons testing or as a result of their exposure to radiation during employment as uranium miners or uranium millers.
Under RECA, there are five categories of claimants: uranium miners, uranium millers, ore transporters, downwinders, and onsite nuclear-test participants.
RECA eligibility
To receive compensation (be eligible for RECA benefits), a claimant must meet eligibility criteria. It's best to speak with our representatives to determine if you qualify, but this is an overview of qualifications. A claimant must establish residence in a specified area during a specified period (downwinders claim), have participated in certain nuclear-weapons tests (onsite nuclear-test participants claim), or have been exposed to defined minimum levels of radiation in a uranium mine (miner claim) and have developed one of the covered illnesses. In addition, written medical documentation (such as screening, medical referral, and follow-up services) is required in all cases to prove that the claimant suffered from or suffers from any of the conditions. Below is a partial list of the facilities and time
periods covered by the program:
Alabama
Southern Research Institute, 1955-2011, Birmingham
Speedring, Inc., 1971-2013, Cullman
Tennessee Valley Authority, 1951-1955, Muscle Shoals
Alaska
Amchitka Island Nuclear Explosion Site, 1974 and earlier. Amchitka Island
California
Area IV of the Santa Susana Field Laboratory, 1955-present, Santa Susana
Canoga Avenue Facility, 1955-1960, Los Angeles County
Downey Facility, 1948-1955, Los Angeles County
General Atomics, 1959-2000, La Jolla
Lawrence Berkeley National Laboratory, 1942-present, Berkeley
Lawrence Livermore National Laboratory, 1950-present, Livermore
Colorado
Grand Junction Operations Office, 1943-present, Grand Junction
Rocky Flats Plant, 1951-2006 , Golden
Connecticut
Anaconda Co., 1942, 1956-1959, Waterbury
Bridgeport Brass Co, Havens Lab, 1950, 1952-1962, Bridgeport
Combustion Engineering, 1965-2009, Windsor
Connecticut Aircraft Nuclear Engine Laboratory (CANEL), 1958-1966, Middletown
De Soto Avenue Facility, 1959-1964, Los Angeles County
Florida
American Beryllium Co., 1967-1992, Sarasota
International Minerals and Chemical Corp., 1951-2011, Mulberry
Pinellas Plant, 1957-1997, Clearwater
W.R. Grace Co., Agricultural Chemical Div., 1954-2011, Ridgewood
Idaho
Idaho National Laboratory, 1949-present, Scoville
Illinois
Allied Chemical Corporation, 1959-2011, Metropolis
Blockson Chemical Company, 1951-2011, Joliet
Dow Chemical Company, 1957-2007, Madison
Metallurgical Laboratory, 1942-1984 & 1987, Chicago
Iowa
Iowa Ordnance Plant, 1949-1974, Burlington
Ames Laboratory, 1942-present, Ames
Kansas
Spencer Chemical Co., Jayhawks Works, 1956-1964, Pittsburgh
Kentucky
Paducah Gaseous Diffusion Plant, 1951-present, Paducah
Maryland
W.R. Grace and Company, 1955-2011, Curtis Bay
Massachusetts
Chapman Valve, 1948-1995, Indian Orchard
Hood Building, 1946-1963, Cambridge
Massachusetts Institute of Technology (MIT) Hood Building only, 1946-1963,Cambridge
Metals and Controls Corp., 1952-1997, Attleboro
Norton Co., 1944-2011, Worcester
Nuclear Metals, Inc., 1958-2011, West Concord
Ventron Corporation, 1942-1997, Beverly
Winchester Engineering and Analytical Center, 1959-1965, Winchester
Michigan
Revere Copper and Brass, 1946-1984, Detroit
Micronesia
Marshall Islands, Pacific Proving Grounds, 1946-1962, Marshall Islands
Missouri
Kansas City Plant, 1949-present, Kansas City
Mallinckrodt Chemical Company, Destrehan Street Plant, 1942-1962, St. Louis
St. Louis Airport Storage Site (SLAPS), 1947-1973 & 1984-1998, St. Louis
Tyson Valley Powder Farm, 1942-1949, St. Louis
United Nuclear Corp., 1958-2011, HematiteWeldon Spring Plant, 1955-1966, 1985-2002, Weldon Spring
Nevada
Nevada Site Office, 1962-present, North Las Vegas
Nevada Test Site (NTS), 1951-present, Mercury
Tonopah Test Range, 1956-present, TonopahYucca Mountain Site Characterization Project, 1987-present, Yucca Mountain
New Jersey
Du Pont Deepwater Works, 1942-2011, Deepwater
Kellex/Pierpont, 1943-1983, Jersey City
Naional Beryllia, 1968-1973, 1983-1986, Haskell
Standard Oil Development Co. of NJ, 1942-1991, Linden
Westinghouse Electric Corp. – New Jersey, 1942-2011, Bloomfield[/vc_column_text][/vc_column_inner][vc_column_inner column_padding="no-extra-padding" column_padding_position="all" background_color_opacity="1″ width="1/2″][vc_column_text]New Mexico
Albuquerque Operations Office, 1942-present, Albuquerque
Los Alamos National Laboratory (LANL), 1942- present, Los Alamos
Sandia National Laboratories, 1945-present, Albuquerque
South Albuquerque Works, 1951-1967, Albuquerque
New York
Bliss & Laughlin Steel, 1951-1999, Buffalo
Bethlehem Steel Company, 1949-1952, Lackawanna
Brookhaven National Laboratory, 1947-1993, Upton
Carborundum Company, 1943-1992, Niagara Falls
Electro Metallurgical, 1942-1953, Niagara Falls
Hooker Electrochemical, 1943-1976, Niagara Falls
Lake Ontario Ordnance Works (LOOW), 1944-1997, Niagara Falls
Linde Ceramics Plant, 1942-2011, Tonawanda
SAM Laboratories, Columbia University, 1942-1947, New York City
Simonds Saw and Steel Co., 1948-2011, Lockport
Peek Street Facility (Knolls Atomic Power Lab), 1947-1954
University of Rochester Atomic Energy Project, 1943-1971, Rochester
West Valley Demonstration Project, 1966-Present, West Valley
Ohio
Feed Materials Production Center (FMPC), 1951-present, Fernald
General Electric Co., 1951-1970, Evendale
Harshaw Chemical Company, 1942-2011, Cleveland
Horizons, Inc., 1952-2011, Cleveland
Monsanto Chemical Company, 1943-1949, Dayton
Mount Plant, 1947-present, Miamisburg/Dayton
Piqua Organic Moderated Reactor, 1963-1969, Piqua
Portsmouth Gaseous Diffusion Plant, 1952-present, Piketon
Brush Beryllium in Luckey, Cleveland, Elmore, and Lorain (years vary)
Oklahoma
Eagle-Picker Industries, Inc., 1988-1996, Quapaw
Kerr-McGee, 1963-2011, Crescent
Oregon
Wah Chang, 1971-2011, Albany
Pennsylvania
Aliquippa Forge, 1988, 1993-1994, Aliquippa
Alumnm Co of America (ALCOA), 1943-1991, New Kensington
Beryllium Corp. of America, 1957-1979, Hazleton
Beryllium Corp. of America, 1943-1979, Reading
Brush Beryllium Co, Reading
CH Schnoor, 1943-1994, Springdale
Jessop Steel Co., 1950-1954, Washington
Nuclear Materials & Equipment Corp. (NUMEC) – Apollo, 1957-1983, Apollo
Nuclear Materials & Equipment Corp. (NUMEC) – Parks Township, 1960-1980, Parks Township
Shippingport Atomic Power Plant, 1984-1995, Shippingport
Superior Steel Co, 1852-2011, Carnegie
U.S. Steel Co. National Tube Division, 1959-1960, McKeesport
Vitro Manufacturing – Canonsburg, 1942-1985, Canonsburg
Westinghouse Atomic Power Development Plant, 1942-1944, East Pittsburgh
Westinghouse Nuclear Fuels Division, 1971-1979, Cheswick
South Carolina
Savannah River Site, 1950-present, Aiken
Tennessee
Clarksville Modification Center, 1949-1967, Fort Campbell, Clarksville
Clinton Engineer Works, 1943-1949, Oak Ridge
Oak Ridge Gaseous Diffusion Plant (K-25 Site), 1943-present, Oak Ridge
Oak Ridge Hospital, 1950-1959, Oak Ridge
Oak Ridge Institute for Science Education (ORISE), 1946-present, Oak Ridge
S-50 Oak Ridge Thermal Diffusion Plant, 1944-1951, Oak Ridge
W. R. Grace, 1958-1970, ErwinY-12 Plant, 1942-present, Oak Ridge
Y-12 Plant, 1942-present, Oak Ridge
Texas
Medina Modification Center (formerly Medina Facility), 1958-1966, San Antonio
Pantex Plant, 1951-present, AmarilloTexas City Chemicals, Inc., 1953-1955, Texas City
Utah
Uranium Mill in Monticello, 1948-1960, 1983-2000, Monticello
Virginia
BWX Technologies, Inc., 1959-2011, Lynchburg
Washington
Hanford, 1942-present, Richland
Resources:
http://www.dol.gov/owcp/energy/
http://www.justice.gov/civil/common/reca.html
Who We Serve
Do you have this card?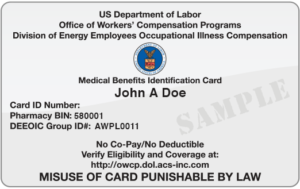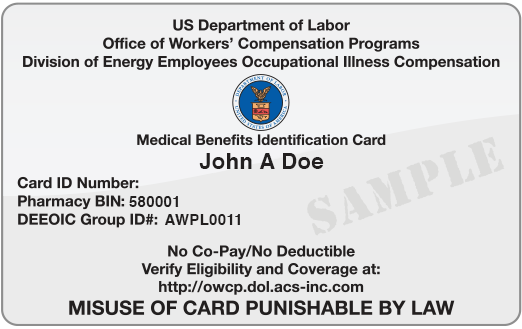 If you already have this card, then you are already approved to receive no-cost medical benefits! Call us to get started today.
In order to be eligible for EEOICPA/RECA benefits, an individual must have been employed at a covered Department of Energy facility, an approved atomic weapons facility, or at a permitted beryllium vendor. An individual must also have one of the covered conditions as a result of exposure to radiation, beryllium, or silica while employed at an accepted facility. In addition, uranium miners, millers, and ore transporters are eligible for benefits if they develop an illness as a result of exposure to toxic substances (such as radiation, chemicals, solvents, acids, and metals) and worked at a facility covered under RECA. Eligibility requirements vary by location and condition.