No-Cost Services
Filing for Eligible EEOICPA Healthcare
To be eligible to receive compensation and home health services under The Energy Employees Occupational Illness Compensation Program Act (EEOICPA), a claimant must meet particular criteria. The following article delineates what the criteria and other documentation are so that a claimant can successfully be considered for EEOICPA/RECA benefits.
Supporting Documentation
To file an EEOICPA claim for compensation, current or former DOE workers must demonstrate that they are eligible by first providing the US government with the proper paperwork. This requires taking the following specific steps:
Completing a claim in writing by filling out 

Form EE-1

(a worker's surviving family members should file EE-2);

Providing verification of employment at a covered site; and

Providing medical evidence establishing that they sustained a covered or occupational illness.
Because the denial or approval of a claim will depend largely on a claimant's proof of employment at a covered facility and diagnosis of a covered disease, it is important to retain all medical documentation related to the illness as well as evidence of employment at a particular work site.
Evidence of Employment
Claimants will be required to submit documentation to the DOE as evidence of employment. This is a critical step, but it can be easily proven with by including any of the following:
Employment records;

Pay stubs;

Tax returns;

Social Security records; and

Written affidavits or declarations by the employee, survivor, or another person.
The Office of Workers' Compensation Programs (OWCP) accepts photocopies, certified copies, and original records of these types of documentation.
Medical Evidence
After successfully obtaining proof of employment, claimants will also be required to submit evidence of the medical conditions covered under the EEOICPA/RECA. This demonstrates that the workers' health was in fact related to their employment at a nuclear power center. Documentation as evidence of covered medical condition may include the following:
A physician's report including the results of a physical examination;

Laboratory reports;

Hospital records;

Death certificates;

X-ray results;

MRI results;

CAT scans;

Lymphocyte proliferation testing results;

Beryllium patch test results;

Pulmonary function test results;

Exercise test results;

Pathology reports;

Biopsy reports; and

Other medical records.
Applicants may also be required to submit additional evidence to the Division of Energy Employees Occupational Illness Compensation (DEEOIC), including a written medical report, authored by a physician, to demonstrate the relationship between workers' exposures to radiation and the incurred disease.
For chronic Beryllium diseases occurring after January 1, 1993, a claimant will need to submit additional medical evidence, including a beryllium lymphocyte proliferation test (LPT) performed on blood or lung cells as well as proof of one of the following:
A lung biopsy;

A computerized axial tomography scan; or

A pulmonary function study or exercise tolerance test.
If a claimant was diagnosed before January 1, 1993, he or she will need to submit at least three of the following tests:
A chest radiograph or computed tomography;

A restrictive or obstructive lung physiology test or diffusion lung capacity defect;

Lung pathology;

A clinical course; or

An immunologic test.
For an EEOICPA claim related to a diagnosis of chronic silicosis, claimants must have experienced a ten year onset latency period and submit one of the following:
A chest radiograph;

Results from a computer-assisted tomograph; or

A lung biopsy.
Submitting a Claim
All DEEOIC forms are available online and should be completed, printed, and submitted to the appropriate district office through the U.S. mail. Additionally, claims should usually be submitted in the state where the claimant originally worked for the DOE. There are also eleven resource centers across the nation created to help workers and their families file claims for benefits either in person or over the phone.
Once the DEEOIC staff receives a claimant's application, they will compile a case file containing all of the information related to that EEOICPA claim before making a decision. If a claim is denied, the applicant has the option of appealing the decision, in which case it may be in his or her best interest to obtain the services of a health care or legal advocate
Who We Serve
Do you have this card?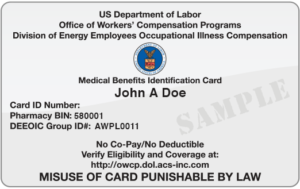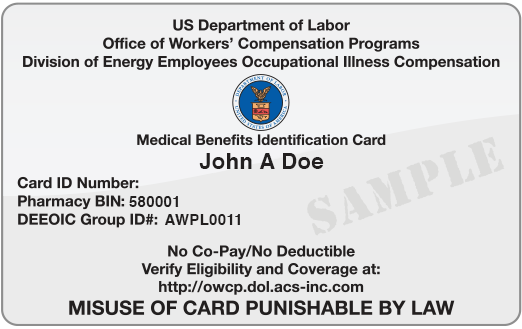 If you already have this card, then you are already approved to receive no-cost medical benefits! Call us to get started today.
In order to be eligible for EEOICPA/RECA benefits, an individual must have been employed at a covered Department of Energy facility, an approved atomic weapons facility, or at a permitted beryllium vendor. An individual must also have one of the covered conditions as a result of exposure to radiation, beryllium, or silica while employed at an accepted facility. In addition, uranium miners, millers, and ore transporters are eligible for benefits if they develop an illness as a result of exposure to toxic substances (such as radiation, chemicals, solvents, acids, and metals) and worked at a facility covered under RECA. Eligibility requirements vary by location and condition.