No-Cost Services
Providing Elderly Energy Workers with Free Healthcare
Many nuclear energy workers became ill during the mid-twentieth century as a result of radiation exposure. During this time, researchers, though generally aware, didn't know the full extent to which heavy metals required to produce energy could pose severe dangers to their health. As a result, many nuclear plants around the country exposed these workers to dangerous conditions before stricter safety measures were put in place
Many workers employed during this time period were exposed to radiation for a much longer than acceptable period of time, causing them to sustain serious injuries and illnesses, including several different types of cancer and other organ system failures. Many of these affected workers are now elderly, so in addition to the issues associated with radiation exposure, they must also deal in tandem with other health struggles that accompany old age. Fortunately, those covered by the the Energy Employees Occupational Illness Compensation Program Act (EEOICPA), a Congressionally-instituted healthcare program for affected energy workers, can receive free medical treatment, benefits, and specialized care that they need.
Elder Care
Elderly patients who formerly worked in nuclear plants, being exposed to heavy metals and other unsafe radiation-related conditions, usually require care from someone who has received training in understanding the specific health needs of the elderly. This is necessary so to detect geriatric problems early and assist in other health-related issues. In addition to treatment for their covered disease, elderly patients may also need the following medical services:
Pulmonary and heart disease care;

Help with administering medication;

Catheter and ostomy care;

Special medical equipment;

Providing necessary immunizations;

Blood sugar checks;

Stroke and post-surgical monitoring; and

Consistent monitoring of vital signs.
This also may require coordination between multiple physicians with different specialities to ensure that all of a patient's needs are met. In these cases, a home health care case manager will help:
Assess a patient's specific needs in regards to assisted living and medical care;

Create a care plan;

Manage a patient's medication;

Create a nutrition and dietary plan that addresses the patient's particular needs; and

Coordinate the health care team, which may include social workers, registered nurses, dietitians, and special aides.
Non-Medical Services
Elderly patients are also more likely to need more non-medical services due to limited mobility, including:
Meal preparation;

Housekeeping;

Transportation;

Dressing;

Using the restroom;

Bathing;

Medication reminders;

Grocery shopping;

Laundry;

Physical exercise;

Managing bills and other paperwork; and

Coordinating discharge from the hospital.
Because senior patients often struggle with mobility, a home health care aide must be familiar with taking measures to help prevent accidents in the home, such as:
Removing rugs and other obstructions;

Relocating furniture;

Overseeing reconstruction to include wheelchair ramps, wider hallways, and specially designed restrooms;

Ensuring that there is adequate lighting throughout the residence;

Installing grab bars and handrails;

Using non-slip mats; and

Visiting doctors regularly to ensure that glaucoma or hearing loss is not affecting a patient's balance.
Obtaining Home Health Care for the Elderly
Many of those who became ill as a result of exposure to dangerous materials while on the job are entering their twilight years. This means that these individuals must not only struggle with their lung problems or cancers caused by the exposure but must also come to terms with other health problems that commonly affect the elderly. The federal government compensates claimants for their injuries and provides full medical benefits, which include health care that is specifically aimed at meeting the needs of seniors. United Energy Workers Healthcare and Four Corners Health Care is here to provide those necessary medical treatments for you free of cost. If you have incurred illnesses or diseases because you were a nuclear worker, or you are a survivor of such a worker, make sure to contact us today. We will make sure that you can receive the medical care and treatment you deserve.
Who We Serve
Do you have this card?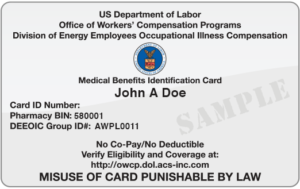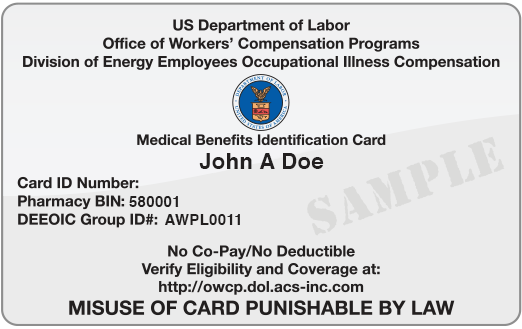 If you already have this card, then you are already approved to receive no-cost medical benefits! Call us to get started today.
In order to be eligible for EEOICPA/RECA benefits, an individual must have been employed at a covered Department of Energy facility, an approved atomic weapons facility, or at a permitted beryllium vendor. An individual must also have one of the covered conditions as a result of exposure to radiation, beryllium, or silica while employed at an accepted facility. In addition, uranium miners, millers, and ore transporters are eligible for benefits if they develop an illness as a result of exposure to toxic substances (such as radiation, chemicals, solvents, acids, and metals) and worked at a facility covered under RECA. Eligibility requirements vary by location and condition.