Knowing that your loved one is suffering with issues derived from Energy Occupational Illness or Radiation Exposure will be one of the most trying times in your life. At United Energy Workers Healthcare and Four Corners Health Care, it is our mission to assist you and your loved ones. We make it our mission to provide the assistance, care, and compassion you need and deserve. United Energy Workers Health Care was established so you will be able to take advantage of EEOICPA and RECA benefits. Having us there to help you during these difficult stages of life will make the difference. We help keep the patient comfortable, while providing your family with a well-earned break. Here are a few frequently asked questions about how we can help terminally ill patients.
Will you help with housework?
Knowing that a few chores around the home will be done while you are away at work can make the difference. Our compassionate care givers will help with the light housework around your home. We do things like taking out the garbage, sweeping, vacuuming, making the bed, and tidying clutter.
What about Meal Preparation?
Our home health care specialists will work with our registered nurses and dietitians to provide the proper nutritious meals that will help your loved ones need. Our home health care services will help reduce your stress levels and make a seeming impossible task, become possible.
What Other Services Will You Provide?
Since our goal is to help you reduce the stress of caring for your loved ones that suffer from Energy Occupational Illness or Radiation Exposure, there is a lot more that we do. Our Home Health Aides can assist with laundry, grocery shopping, radiation therapy, breathing treatments, and medicine administration. We can help your loved ones get dressed, use the restroom, and so much more.
Can You Help With the Department of Labor Paper Work?
Being a beneficiary of EEOICPA and RECA benefits comes with a lot of government paperwork. Before you begin to worry about the forms, you can smile knowing that our professional caregivers are going to help you navigate the sea of paperwork and forms. We put our years of experience to work for you.
How Do You Help Family Members?
One of the best benefits of UEW Health Care is our hiring program. We hire and certify family members to care for their loved ones so that, once certified, you can receive compensation for helping your loved ones.
With our compassionate care givers on your side we can help your loved one to enjoy his or her life with the least amount of pain and stress possible. We provide the best care available, so you can breathe easier knowing that it is our mission to help. Our services are provided free of charge by the Office of Workers' Compensation Programs (OWCP) to those individuals who have become dangerously ill from Energy Occupational Illness or Radiation Exposure.
Who We Serve
Do you have this card?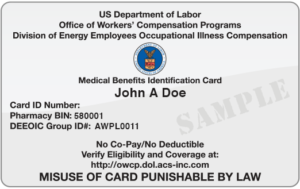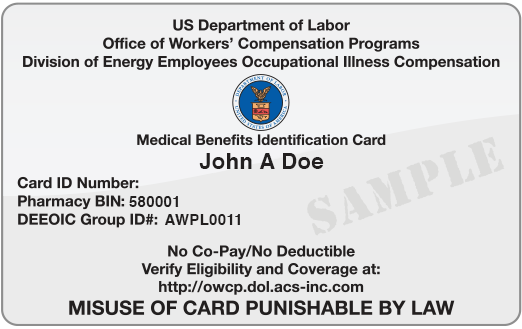 If you already have this card, then you are already approved to receive no-cost medical benefits! Call us to get started today.
In order to be eligible for EEOICPA/RECA benefits, an individual must have been employed at a covered Department of Energy facility, an approved atomic weapons facility, or at a permitted beryllium vendor. An individual must also have one of the covered conditions as a result of exposure to radiation, beryllium, or silica while employed at an accepted facility. In addition, uranium miners, millers, and ore transporters are eligible for benefits if they develop an illness as a result of exposure to toxic substances (such as radiation, chemicals, solvents, acids, and metals) and worked at a facility covered under RECA. Eligibility requirements vary by location and condition.