Schizophrenia is a frequently misunderstood mental illness. Unfortunately, there is a lot of confusion regarding what schizophrenia is, how the condition presents itself, and how people with schizophrenia should be treated. 
Beyond that, similar to many other mental health disorders, there is tremendous stigma associated with schizophrenia. Tragically, the overwhelming stigma often makes it challenging for many people — especially for senior citizens — to get access to the proper health care services that they need and deserve. 
Schizophrenia in the Elderly: Understanding the Basics
As explained by the National Institute of Mental Health (NIMH), schizophrenia is a chronic and severe mental health disorder that affects a person's thinking, feeling, and behavior. The symptoms are often severe — in the worst cases, schizophrenia can be almost totally debilitating. Notably, schizophrenia is an episodic condition. Consistent with many other mental health disorders, the severity of the symptoms can vary dramatically from day-to-day. Some of the most common symptoms associated with schizophrenia include: 
Hallucinations or delusional thinking;

Unusual patterns of thinking;

Loss of touch with reality; 

Agitated movements; 

Reduced emotional expression;

Poor decision-making; and

Trouble focusing. 
Perhaps the biggest myth pertaining to schizophrenia and the elderly is that it is impossible for people to develop schizophrenia for the first time as a senior citizen. This is simply false. While many elderly adults who are dealing with schizophrenia first developed the mental health condition many years ago, it is entirely possible for a person to develop late-onset schizophrenia. 
How Common is Schizophrenia?
While not an especially common condition, schizophrenia is far from rare. According to data provided by the World Health Organization (WHO), more than 21 million people around the globe are currently living with schizophrenia. While it is somewhat more common in men — approximately 12 million patients who have been diagnosed are men — it can impact anybody. 
Schizophrenia cuts across national boundaries, racial lines and class lines. Though there is believed to be a significant genetic component, it is difficult to predict who will develop schizophrenia. In fact, most people with a schizophrenic parent or a schizophrenic sibling will not themselves develop the condition. 
Health Care Options for Schizophrenia
Schizophrenia always requires professional medical intervention and ongoing mental health treatment. While there is currently no cure for schizophrenia, there is a lot that can be done to manage the condition. 
As a starting point, most people who are dealing with schizophrenia are prescribed some form of antipsychotic medication. Study after study has proven that these medications are highly effective. Not only do they reduce the severity of the symptoms, but they also reduce the length and frequency of episodes.
In addition to prescription medication, it is generally recommended that patients with schizophrenia receive some form of ongoing mental health treatment. Supportive counseling and behavioral therapy have been shown to better help people deal with the effects of the condition. 
Finally, it is especially important that senior citizens who have been diagnosed with schizophrenia are in a happy, safe, healthy, and socially active environment. Social isolation is unhealthy for all seniors. For people dealing with schizophrenia, social isolation can be especially devastating.
Who We Serve
Do you have this card?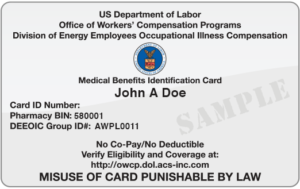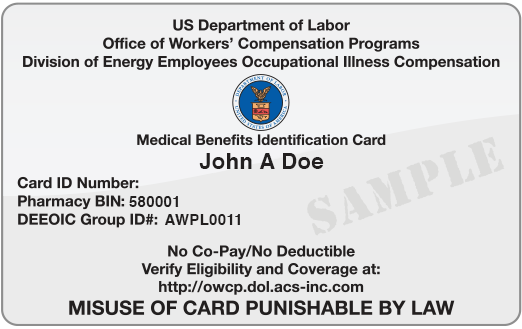 If you already have this card, then you are already approved to receive no-cost medical benefits! Call us to get started today.
In order to be eligible for EEOICPA/RECA benefits, an individual must have been employed at a covered Department of Energy facility, an approved atomic weapons facility, or at a permitted beryllium vendor. An individual must also have one of the covered conditions as a result of exposure to radiation, beryllium, or silica while employed at an accepted facility. In addition, uranium miners, millers, and ore transporters are eligible for benefits if they develop an illness as a result of exposure to toxic substances (such as radiation, chemicals, solvents, acids, and metals) and worked at a facility covered under RECA. Eligibility requirements vary by location and condition.