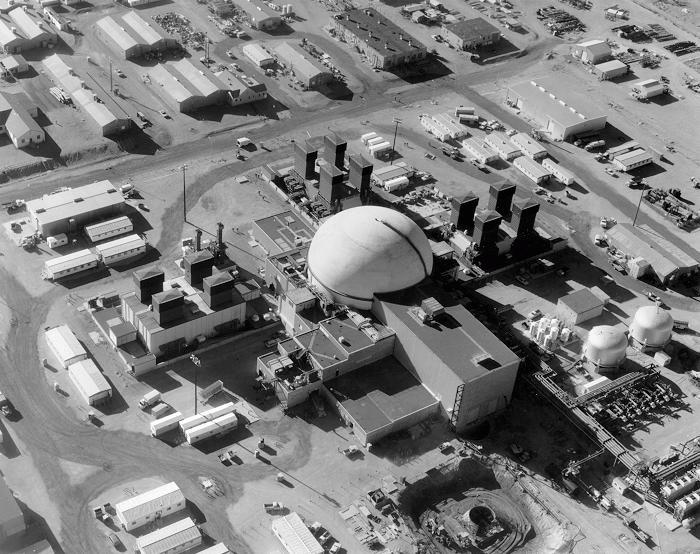 The Fast Flux Test Facility, Hanford Test Site
The Hanford Nuclear Site started out as Hanford Engineer Works. Top-secret, Engineer Works began with the DuPont Corporation in collaboration with the U.S. Army Corps of Engineers. The purpose being to extract plutonium from spent uranium to develop nuclear bombs. Being close to the Columbia River, Hanford was the perfect spot for cooling the reactors and producing the hydroelectric energy to power them.
From its inception, the site had its down sides. The U.S. Government moved 177 bodies from a cemetery within the area, and evicted 1,500 people from their homes with only a month's notice. Hanford was also racially segregated. White people were allowed to live in Hanford and nearby town Richland, while Black or Mexican-American workers had to live in separate barracks or buildings a bus ride away.
After WWII, when the Cold War was ramping up, the Hanford site was used again to create plutonium and weapons. However, Hanford's safety regulations were not up-to-date, including the lack of containment shells for reactors in the event that they would explode unplanned. Workers were not informed of the dangers of working here. Those working with chemicals often handled substances with bare hands, exposing them to many toxic materials.
DuPont was warned against hiring women who would in the future want to have children. The reproductive health risks were high. In spite of this, many women hired were in their 20s and 30s.
Classified for many years, these risks finally came out to the public in 1986, when the Department of Energy released documents showing the intentional release of toxic emissions. This revealed that the amount of nuclear waste released in the Hanford site into the environment was the most recorded in history.
This ultimately led to its decommission in 1989.