Anyone at any age has the potential to be very lonely in this day and age. Sadly, it is more common as we age. The CDC states, "Older adults are at increased risk for loneliness and social isolation because they are more likely to face factors such as living alone, the loss of family or friends, chronic illness, and hearing loss."
Loneliness can exist in anyone, regardless of how much social contact one gets. However, an increase in close relationships is very helpful in lessening the isolated feelings. There are many things you can do to ensure you or your loved one has the opportunity to create meaningful connections.
The National Institute on Aging says research has linked social isolation and loneliness to higher risks of high blood pressure, heart disease, obesity, depression, cognitive decline, Alzheimer's disease, and more.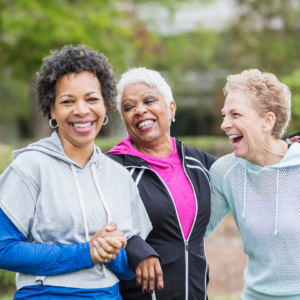 Here are some options you can explore!

Your community or a nearby community is likely to have a senior center with weekly activities, like lunch or dinner, bingo or trivia. Often times there are carpools, or even a bus you can catch. You can Google "local senior centers" or visit different Facebook pages connected to your area.
Visit with your neighbors. There is likely someone nearby feeling the same pull to make connections as you are. Ask them if they would like to take occasional walks with you around the neighborhood.
A community book club is a great way to not only stay social, but to read some fun, new books you never would have learned of otherwise.
Volunteer at your local homeless shelter or anything else you may be passionate about. This is a great way to feel accomplished and make a difference while making meaningful connections.
Take a class at a community college. If there is something you've always wanted to learn, whether it's a language, a skill, or anything else, having somewhere to go weekly can really help you get out of your shell.
Get on social media! If you can't leave your home for health reasons, social media is a great place to connect with others. Endless Facebook groups ensure that something you're interested in is out there! Chat with others on Reddit about something you are passionate about. Schedule a weekly Zoom call with a loved one who lives in another state.
Everyone is lonely at times, and anyone should be happy to connect with you!