Assistance & Care for EEOICPA & RECA Beneficiaries
United Energy Workers Healthcare offers free home health services to former Missouri energy workers. We strive to provide the highest quality care and services to former Department of Energy workers, including in-home nursing, physical therapy, personal assistance, and more. Our case management team can help with coordinating care and filing your claim.
UEW Health aims to provide support to former Missouri energy workers by offering the care they need and helping them access their entitled benefits without adding stress. Our staff is both qualified and compassionate and understands the struggle that these workers go through.
If you or someone you care about has been diagnosed with a work-related illness attributed to the energy industry, please contact us now to learn about our services and how we can potentially assist you.
In-Home Healthcare for Missouri DOE Workers
Qualified individuals in Missouri can receive free home health care, including specialized care for elderly workers who have been exposed to radiation. Our team will work with you and your family to develop a personalized plan that addresses all of your needs and concerns. Our case management experts can help arrange the precise care you require.
Nursing & In-Home Care
We provide in-home nursing and personal care services for EEOICPA & RECA beneficiaries. Compassionate care and assistance are important for seniors to retain independence and comfort.
Therapeutic Services
Our personalized therapeutic services can assist you in managing your illness. We offer a variety of services, such as physical therapy, speech therapy, occupational therapy, and respiratory therapy.
Supplemental Assistance
In addition to in-home medical services and therapy, UEW also provides patients with non-medical services, such as meal preparation, grocery shopping, and housekeeping.
Case Management & Filing Assistance
Although the process might seem overwhelming, filing a claim is not as hard as it may sound. Our professional staff can help guide you through the process of filing your claim so you can receive the compensation you deserve.
Who Qualifies for EEOICPA & RECA?
The EEOICPA & RECA compensate energy workers who were employed by the Department of Energy after 1941 and became ill as a result of exposure to harmful chemicals at work. Possible beneficiaries include current employees, former employees, contractors, and subcontractors.
A claimant must have sustained one of the following diseases while employed by the DOE, an atomic weapons employer, or a beryllium vendor:
Specific cancers;
Chronic silicosis;
Beryllium sensitivity, or
Chronic beryllium disease.
Covered Missouri Facilities
Mallinckrodt Chemical Works
St. Louis Airport Storage
Who We Are
United Energy Workers Healthcare is a family-based company, whose heritage began deep in the uranium mines of Blanding, Utah. These deep roots have inspired our family and are the driving force to serve other families that have struggled with similar situations. That personal connection has pushed us to become a national leader in home healthcare.
UNITED ENERGY WORKERS HEALTHCARE
Missouri
1931 E 20th St
Suite 102
Joplin, MO 64804
P: 417-782-7088
F: 417-782-3002
UNITED ENERGY WORKERS HEALTHCARE
Missouri
9229 Ward Parkway
Suite 310
Kansas City, MO 64114
P: 816-216-6527
F: 816-214-5849
UNITED ENERGY WORKERS HEALTHCARE
Missouri
412 Jungermann Rd, #104
St. Louis, MO 63376
P: 636-477-6960
F: 319-209-2263
Who We Serve
Department of Labor White Card Insurance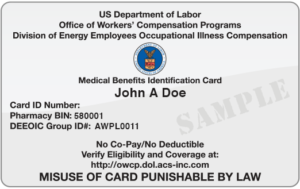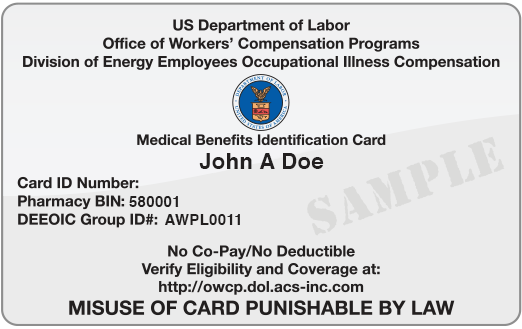 Eligible recipients of EEOICPA & RECA will receive "white card" to help access their medical benefits.
In order to be eligible for EEOICPA/RECA benefits, an individual must have been employed at a covered Department of Energy facility, an approved atomic weapons facility, or at a permitted beryllium vendor. An individual must also have one of the covered conditions as a result of exposure to radiation, beryllium, or silica while employed at an accepted facility. In addition, uranium miners, millers, and ore transporters are eligible for benefits if they develop an illness as a result of exposure to toxic substances (such as radiation, chemicals, solvents, acids, and metals) and worked at a facility covered under RECA. Eligibility requirements vary by location and condition.