After a few government researchers died near the end of the Manhattan Project while dealing with nuclear materials during criticality experiments, a team to address safety concerns was created. Since 1978, there has not been one death connected to criticality experiments thanks to this team. 
A woman named Libby Johnson began as a research assistant at the K-25 uranium-enrichment plant in 1948. Johnson later worked as a supervisor and senior reactor operator where she was in charge of oversaw reactor maintenance. She also trained reactor operators and oversaw experimental programs. In 1960, she also wrote the standard operating procedure for the Pool Critical Assembly. Basically, she was an expert in safely conducting experiments.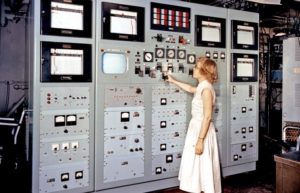 Libby Johnson operates a nuclear reactor. Photo Credit: ORNL, U.S. Dept. of Energy
The current International Criticality Safety Benchmark Evaluation Project Handbook, is still used today. She is referenced in the handbook, "Johnson continuously built upon the body of knowledge that is still used today. She was a pioneer among pioneers." said Douglas Bowen, head of ORNL's Nuclear Criticality, Radiation Transport and Safety section. 
Libby's success as a woman in the nuclear science field was significant in opening the door for other women to contribute to the work.