Types of Service
We have three types of assistance we provide:
Home Health Aide/
Personal Care Givers
Provide personal care, light housekeeping and meal preparation. Give everyday care to the patient, such as: making meals, helping the patient get dressed, go to the bathroom, etc.
Family Member Caregivers
Family members can become paid caregivers to help take care of their family members.
Licensed
Registered Nurses
Provide assistance with the administration of medication and medical monitoring. The preventative care they provide can catch early symptoms of reactions to medications and potential complications.
No-Cost Services
We offer home health services at no cost to patients.
How can we do this? The Department of Labor pays for the medical care related to your covered conditions under the EEOICPA/RECA program. We employ licensed registered nurses, Home Health Aides/Personal Care Givers to provide health care services based on your medical needs. We also provide emotional support for the patient and family. We are here to help you take back your freedom to enjoy life!
Covered Conditions
No-cost services provided by highly trained and friendly healthcare professional services that are provided based upon an individual's approved conditions. Examples include:
Select Radiation-Induced
Cancers, such as:
Leukemia, including CLL
Lymphomas (except Hodgkin's)
Multiple Myeloma
Thyroid, breast, and ovarian cancers
Lung, bone and various skin cancers
Colon, rectal, and primary liver cancers
Bile duct/gall bladder cancer
Cancer of the salivary gland
Cancer of the urinary tract (kidney & bladder)
Cancer of the pharynx / Laryngeal cancer
Cancer of the esophagus
Cancer of the small intestine
Cancer of the pancreas
Cancer of the brain & central nervous system
Other Covered Conditions
Select occupational lung diseases
Beryllium sensitivity
Chronic beryllium disease (CBD)
Chronic silicosis
Pulmonary fibrosis
Select radiation-induced cancers
All covered conditions must meet requirements
Who We Serve
Do you have this card?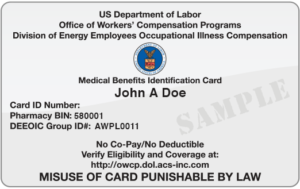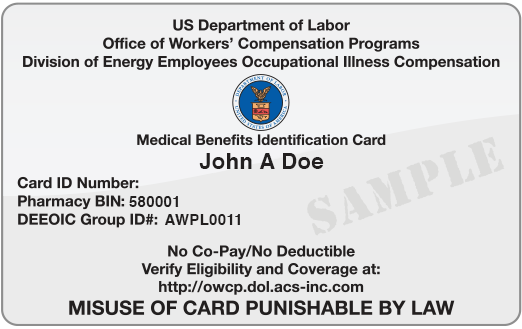 If you already have this card, then you are already approved to receive no-cost medical benefits! Call us to get started today.
In order to be eligible for EEOICPA/RECA benefits, an individual must have been employed at a covered Department of Energy facility, an approved atomic weapons facility, or at a permitted beryllium vendor. An individual must also have one of the covered conditions as a result of exposure to radiation, beryllium, or silica while employed at an accepted facility. In addition, uranium miners, millers, and ore transporters are eligible for benefits if they develop an illness as a result of exposure to toxic substances (such as radiation, chemicals, solvents, acids, and metals) and worked at a facility covered under RECA. Eligibility requirements vary by location and condition.