No-Cost Services
In 2001, the Energy Employees Occupational Illness Compensation Program Act (EEOICPA) was passed in an effort to compensate former and current Department of Energy (DOE) employees who were exposed to radioactive materials or toxic metals or chemicals and became ill as a result. The Radiation Exposure Compensation Act (RECA), was passed soon after to help provide medical benefits to uranium miners and workers, as well as those who lived downwind of nuclear testing sites and were later diagnosed with certain cancers and other serious illnesses. Eligible beneficiaries qualify for free medical care, so if you live in South Carolina and have received compensation under EEOICPA or RECA, you may be eligible for free home health care services.
Filing a Claim
In order to qualify for benefits under EEOICPA, an applicant must have worked at a covered DOE site and provide proof of employment as well as evidence of a covered diagnosis. Surviving spouses or children of former DOE workers may also be eligible for compensation by filing an application on their loved one's behalf. RECA provides benefits to a larger group of people, including uranium miners, ore transporters, uranium millers, onsite participants, and individuals who lived downwind of a nuclear testing site. Before an RECA application will be approved, claimants will also need to submit proof of their presence in a covered area during a designated time period. This could require submission of tax records, employment records, personal letters, birth records, marriage records, personal diaries, and voting records.
At United Energy Workers Healthcare, we are happy to assist with the application process, which can be a bit overwhelming and time-consuming without guidance. For those who need professional advocates, we can provide a number of recommendations.
Benefits for Covered Individuals
When the DOE began testing at nuclear sites, the effects of radiation exposure were still not understood. As a result, thousands of people were needlessly exposed, which in turn led to the development of serious health conditions, such as terminal cancers. The benefits offered through EEOICPA and RECA attempt to provide compensation to those who suffered or lost a loved one as a result of radiation exposure. These benefits include free medical care, such as medication administration, therapy, and ongoing nursing care, as well as assistance with more personal activities, such as dressing, eating, and bathing. Our home health care team also provides additional services, including light housekeeping and meal preparation, as well as assistance with medical billing and transportation to and from doctor's appointments. Although we provide these same services to clients who are not covered by EEOICPA or RECA, only covered employees will receive them for free.
Getting EEOICPA and RECA Benefits in South Carolina
In South Carolina, those whose EEOICPA or RECA claims have been approved are entitled to free medical benefits that cover the cost of their treatment as well as home health care, which includes in-home nursing and assistance with daily activities. To learn more about the services that we provide, please contact our South Carolina office. 
Who We Serve
Do you have this card?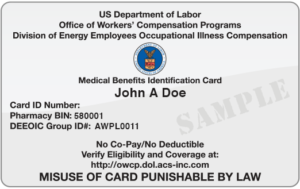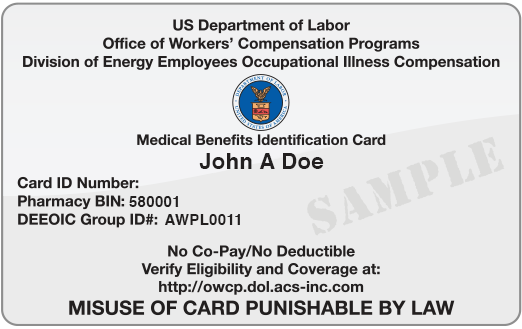 If you already have this card, then you are already approved to receive no-cost medical benefits! Call us to get started today.
In order to be eligible for EEOICPA/RECA benefits, an individual must have been employed at a covered Department of Energy facility, an approved atomic weapons facility, or at a permitted beryllium vendor. An individual must also have one of the covered conditions as a result of exposure to radiation, beryllium, or silica while employed at an accepted facility. In addition, uranium miners, millers, and ore transporters are eligible for benefits if they develop an illness as a result of exposure to toxic substances (such as radiation, chemicals, solvents, acids, and metals) and worked at a facility covered under RECA. Eligibility requirements vary by location and condition.