No-Cost Services
United Energy Workers Healthcare and Four Corners Health Care is dedicated to providing no cost home healthcare services to EEOCIPA and RECA beneficiaries. EEOICPA and RECA stands for Energy Employees Occupational Illness Compensation Program Act and Radiation Exposure Compensation Act, respectively, two congressional acts that compensate DOE workers and subcontractors who contracted covered cancers and other occupational illnesses on the job. Our commitment extends to offering free consultations to individuals who believe they may qualify for these benefits as well as those who are uncertain of their rights and eligibility. Through a free consultation, we can help individuals determine their eligibility for benefits and understand how they can take advantage of these benefits.
Why Do We Offer a Free Consultation?
There is an understandable hesitation to accept something that is "free" and wonder instead what the "catch" to the free offer is. At United Energy Workers Healthcare and Four Corners Health Care, there is no "catch" – the consultation we offer, along with all of our healthcare services, is truly free. We understand that the EEOICPA and RECA programs are complicated and difficult to understand, and this complexity may dissuade some individuals who may otherwise be entitled to benefits under these programs from seeking assistance with their healthcare related costs. By offering a free consultation to those who believe they may qualify for EEOICPA and RECA benefits, we hope to encourage qualified individuals to take advantage of these benefits.
What to Expect During a Free Consultation
We understand it can be intimidating to schedule a consultation with us without knowing what to expect. During your free consultation, we will especially want to discuss with you your employment history and medical history as these are two important factors in determining whether you are entitled to benefits under EEOICPA and/or RECA. If you do not qualify for benefits under either of these programs, the information we learn during your free consultation may help us identify other benefit programs for which you may qualify. Finally, in order to make your initial consultation helpful and meaningful to you we will want to know what questions or concerns you have so that we can address and answer them.
Do You Ever Charge a Fee for Consultations?
Even if we are not able to help you obtain benefits under EEOICPA and/or RECA, United Energy Workers Healthcare and Four Corners Health Care does not charge clients or prospective clients any fee for the initial consultation. In other words, your initial consultation is free regardless of whether we are able to assist you in obtaining home health care benefits. You will not receive a bill from us at any point in the future for meeting with us and discussing your eligibility for EEOICPA and/or RECA benefits.
You may be missing out on important benefits under EEOICPA and/or RECA. One free call to our office and one free initial meeting with a member of our team can reap immensely positive changes in your financial and medical future. You have nothing to lose by speaking with United Energy Workers Healthcare  and Four Corners Health Care team of dedicated and experienced professionals, so call us today at (800) 314-2383 and schedule your free initial consultation as soon as possible.
Who We Serve
Do you have this card?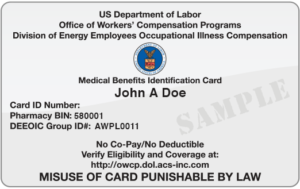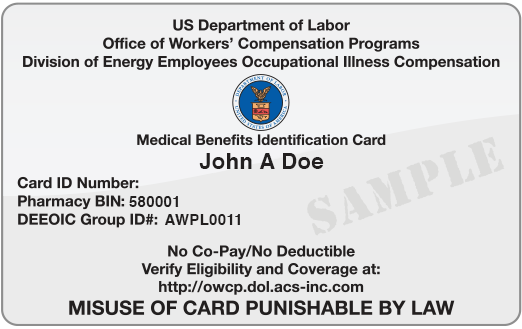 If you already have this card, then you are already approved to receive no-cost medical benefits! Call us to get started today.
[/vc_column_text][/vc_column_inner][vc_column_inner column_padding="no-extra-padding" column_padding_position="all" background_color_opacity="1″ width="1/2″][divider line_type="No Line" custom_height="25″][vc_column_text]In order to be eligible for EEOICPA/RECA benefits, an individual must have been employed at a covered Department of Energy facility, an approved atomic weapons facility, or at a permitted beryllium vendor. An individual must also have one of the covered conditions as a result of exposure to radiation, beryllium, or silica while employed at an accepted facility. In addition, uranium miners, millers, and ore transporters are eligible for benefits if they develop an illness as a result of exposure to toxic substances (such as radiation, chemicals, solvents, acids, and metals) and worked at a facility covered under RECA. Eligibility requirements vary by location and condition.[/vc_column_text][/vc_column_inner][/vc_row_inner][/vc_column][/vc_row]