Everyone wants to stay in their own home as long as feasibly possible. The idea of needing assistance or being placed in a home is a terrifying thought for almost everyone. What options are there — nursing home, home healthcare services, assisted living facility? And are there best methods for how to convince a parent to go to assisted living?
Tips for Talking with Your Parent
Bringing up the subject of an assisted living facility has to be done carefully. Start by gently planting a seed. Do not start the conversation with the premise that the decision has already been made. Just mention to them that there are options out there that might make things easier for them, and may even be more fun.
You should research nearby assisted living facilities and pick some that look like the best candidates. Offer to take them on a tour, but if they decline, don't push it. Go ahead and drop the subject for the time being and look to bring it up another day.
You can also look for teaching moments, like a fall that did not result in any serious injuries. Don't bring it up right away, but consider saying that you are very relieved that it was not more serious, but it was likely a scary moment for them. Suggest that you both would feel better if you had people around to take care of him or her.
Try to turn the situation around by making it your problem, not your parent's. In other words, say you are concerned about him or her and don't want to see them hurting. Ask what their concerns are about assisting living options. Perhaps it's not so much the transition itself, but it's concerned about the cost.
Get Assistance from Experts
If your parent won't listen to you, then it may work to get a professional involved. Maybe it's a social worker, priest, or even a physician who can help try to convince an aging parent who needs to consider assisted living. This person can explain potential benefits about relocating, and a physician can discuss therapies and treatment for existing conditions while in an assisted living facility.
Be Supportive and Take Things Slow
Remember to be supportive and sensitive to how your parent feels. The idea of leaving behind a home full of memories is not easy. It's a very emotional decision, and you have to remember you are asking a lot of your parent.
If you have at least gotten your parent to agree to consider assisted living, try to focus on the positive elements. When you tour a facility, discuss how much privacy the residents have. Ask what they are allowed to bring from home and how it can be decorated. Try to bring some excitement into the potential change rather than focus on the concerning aspects.
Consider Home Healthcare Services Over Assisted Living Facility
If you cannot convince your parent to consider an assisted living facility, why not look into home healthcare services? Some people may even qualify for free home healthcare services through the United Energy Workers Healthcare and Four Corners Health Care, which may come through the EEOICPA and RECA. For more information on potential benefits, contact one of our knowledgeable team members today.
Who We Serve
Do you have this card?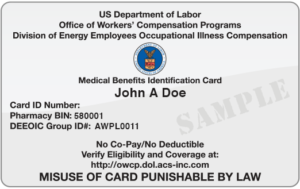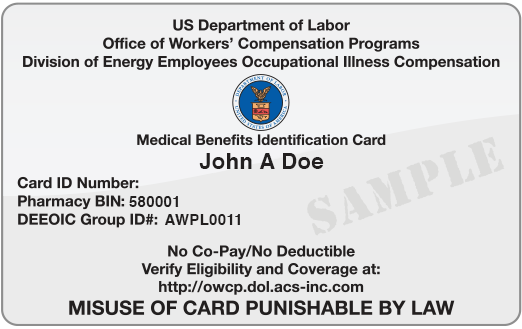 If you already have this card, then you are already approved to receive no-cost medical benefits! Call us to get started today.
In order to be eligible for EEOICPA/RECA benefits, an individual must have been employed at a covered Department of Energy facility, an approved atomic weapons facility, or at a permitted beryllium vendor. An individual must also have one of the covered conditions as a result of exposure to radiation, beryllium, or silica while employed at an accepted facility. In addition, uranium miners, millers, and ore transporters are eligible for benefits if they develop an illness as a result of exposure to toxic substances (such as radiation, chemicals, solvents, acids, and metals) and worked at a facility covered under RECA. Eligibility requirements vary by location and condition.