Department of Energy (DOE) workers are exposed to many toxic substances that can cause chronic illness. These illnesses not only severely impact a person's quality of life, they are also very costly to treat. For those currently sick however, there are programs that can help ease the financial burden, as well as help patients manage their daily routines. Programs can provide free home healthcare services among other benefits that can make it a little easier for anyone suffering from a chronic illness.
What Is the EEOICPA?
The Energy Employees Occupational Illness Compensation Program Act (EEOICPA) is designed to provide benefits to employees of the Department of Energy (DOE) that become sick due to exposure to radiation or other toxic substances. The EEOICPA, in some instances, also provide benefits to survivors of DOE employees and contractors or subcontractors also exposed to these substances.
It is important for all chronically sick DOE workers to understand that not all illnesses are covered under the EEOICPA. Under the Act, occupational illnesses are defined as those resulting from exposure to beryllium and certain carcinogens. Those formerly or currently employed with the DOE and suffering from chronic silicosis are also sometimes covered under the Act.
Beryllium Illnesses Covered Under EEOICPA
Beryllium is a hard, gray metal that is toxic to anyone exposed to it. The beryllium illnesses covered by the EEOICPA include sensitivity to beryllium, verified chronic beryllium disease, or any injury or impairment caused by exposure to the metal.
Still, not everyone currently employed by the DOE will qualify to receive benefits outlined in the EEOICPA. The Act outlines very specific requirements for anyone wishing to apply. Those born before January 1, 1993, also have different requirements anyone born after that date. Those wishing to apply for benefits should speak to a professional in the healthcare field to learn more about applying.
Requirements for Chronic Silicosis Benefits
EEOICPA provides coverage for current and former DOE employees suffering from chronic silicosis. This too, however, has strict requirements. First, applicants must have been exposed to silica dust for a period of at least ten years. Applicants must also submit a written diagnosis from a doctor, along with a chest radiograph or tomography or lung biopsy results.
Current DOE Employees & EEOICPA Benefits Eligibility
The EEOICPA allows former and current employees of the DOE to receive benefits if they are now suffering from cancer after being exposed to carcinogens. Currently there are 22 different types of cancers eligible for EEOICPA benefits. However, these too have stringent requirements. For example, someone suffering from cancer of the esophagus is barred from receiving benefits if they are a heavy smoker or a heavy drinker.
Does RECA Provide Benefits to Current DOE Employees?
The Radiation Exposure Compensation Act was enacted on October 15, 1990. It was written into law to help those exposed to radiation deal with cancers and other illnesses they contracted as a result of that exposure. However, there is a caveat that comes with RECA.
During the Cold War, the United States conducted extensive testing of nuclear weapons. This testing was conducted mainly in Nevada. Testing was also done in the Pacific Ocean, the Alaskan Peninsula, Colorado, Mississippi, and New Mexico. Anyone at the testing site or nearby is potentially eligible for benefits. The term 'nearby' refers to anyone in the area, or that lived downwind of any testing site.
It's also important that anyone suffering from exposure to radiation understand that the United States only conducted nuclear testing between the years of 1945 and 1992. Due to this fact, current employees of the DOE may not meet eligibility requirements for RECA. However, if someone was exposed to radiation from this testing and currently works at the DOE, or if they lived downwind of the testing sites and now work for the DOE, it's possible they are also eligible.
Current DOE Worker?
Chronic illnesses are extremely difficult to live with. They can prevent people from something as simple as making themselves a good meal. Due to the ongoing nature of these illnesses, they are also very costly to treat. Anyone suffering from a chronic illness and believes they may meet the eligibility requirements for EEOICPA or RECA should speak to our free home healthcare group that can help.
If you are suffering from a chronic illness and think you may be eligible for EEOICPA or RECA benefits, contact United Energy Workers Healthcare and Four Corners Health Care today at 800-314-2383. We know the difficulties chronic illnesses can present, and we want to help you manage yours. 
Who We Serve
Do you have this card?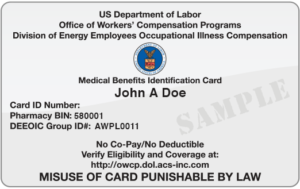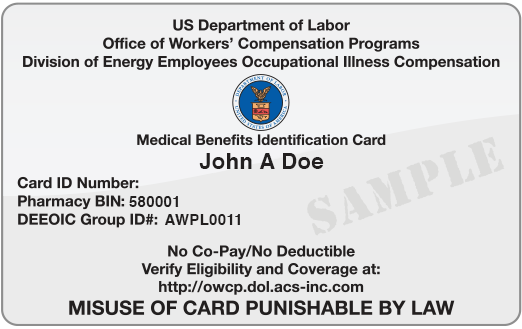 If you already have this card, then you are already approved to receive no-cost medical benefits! Call us to get started today.
In order to be eligible for EEOICPA/RECA benefits, an individual must have been employed at a covered Department of Energy facility, an approved atomic weapons facility, or at a permitted beryllium vendor. An individual must also have one of the covered conditions as a result of exposure to radiation, beryllium, or silica while employed at an accepted facility. In addition, uranium miners, millers, and ore transporters are eligible for benefits if they develop an illness as a result of exposure to toxic substances (such as radiation, chemicals, solvents, acids, and metals) and worked at a facility covered under RECA. Eligibility requirements vary by location and condition.