Making the decision to move a parent to an assisted living facility is hard enough, but if he or she is suffering from dementia, the decision is even harder. If your parent is in the early stages of dementia, the move can be even more traumatic for them. Once you've made the decision to move your parent, you must look into the financial aspects and whether there is coverage available out there. If your parent qualifies for Medicaid, has veterans' benefits, a long-term care insurance policy, or is qualified under programs like EEOICPA and RECA, it may help reduce the financial strain on your family.
Choosing the Right Facility
When researching assisted living facilities, it's important to choose one that has an area designed for residents with memory problems. You want a facility that has specially trained staff who are experienced in working with residents with dementia. You want to find a facility that helps keep a high quality of life for your parent, not one that adds to concerns regarding depression or wandering off. Keeping patients with dementia safe is crucial, and not all facilities have the right staff or precautions in place.
Don't just trust that a facility says it has a memory care wing. Look at the Joint Commission, which is a non-profit healthcare accreditation organization. It now includes Memory Care Certification as part of the Nursing Care Center Accreditation Program. Memory care accreditation looks at five key areas for certification. These include:
Care coordination

Activity programming based on abilities

Staff competency and knowledge

Safe and supportive physical environment

Behavior management
Knowing When It's Time
If you are trying to decide whether it's time to make the move, there are some red flags you need to watch for in your loved one that could indicate that it may be time to move them:
Are they becoming aggressive or have they fallen down multiple times?

How are they with food preparation and safe food handling and storage?

Can they monitor their own medications and the dosages?

Are they still trying to drive?

Are they at risk for a financial scam?
Paying for Specialized Care for a Parent with Dementia
Assisted living facilities are not cheap, and Medicare typically does not cover the costs. It's estimated that monthly costs could range from $2,000 to well over $6,000. If the patient has dementia, you can likely tack on another $1,000 a month. You will need to look into financial options to cover the cost of the facility.
You can look at whether or not your parent qualifies for Medicaid, or even pay out of pocket. Be sure to inquire about long-term care insurance policies and look at other avenues for benefits and assistance. One example is to check for veteran's benefits if your parent served in the military. If your parent worked in a special industry and was injured or suffered an occupational illness, he or she may have some benefits owed under industry-specific programs like the Energy Employees Occupational Illness Compensation Program (EEOICPA) and the Radiation Exposure Compensation Act (RECA).
Learn More about Free Home Healthcare Services for Dementia Patients
If your parent may qualify under EEOICPA and RECA, contact United Energy Workers Healthcare and Four Corners Health Care at 888-675-1841 to discuss what free home healthcare services may be available for your parent.
Who We Serve
Do you have this card?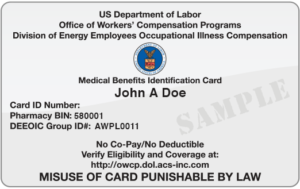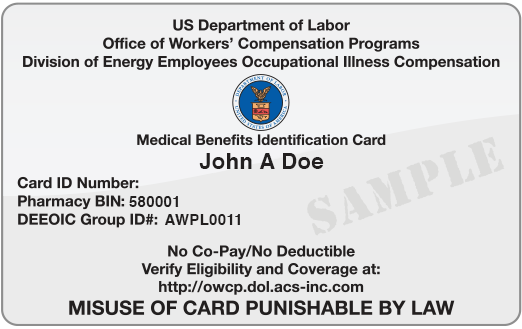 If you already have this card, then you are already approved to receive no-cost medical benefits! Call us to get started today.
In order to be eligible for EEOICPA/RECA benefits, an individual must have been employed at a covered Department of Energy facility, an approved atomic weapons facility, or at a permitted beryllium vendor. An individual must also have one of the covered conditions as a result of exposure to radiation, beryllium, or silica while employed at an accepted facility. In addition, uranium miners, millers, and ore transporters are eligible for benefits if they develop an illness as a result of exposure to toxic substances (such as radiation, chemicals, solvents, acids, and metals) and worked at a facility covered under RECA. Eligibility requirements vary by location and condition.