Mental health issues affect millions of senior citizens in the United States. Unfortunately, a large number of elderly people who are suffering from a mental illness or neurological disorders are not receiving the attentive, high-quality treatment that they deserve. In too many cases, elderly people are not able to access the options that are available to them. For qualified applicants, EEOICPA and RECA benefits will cover the cost of mental health services and home health care treatment. For other people, additional health options may be available.
One in Five Elderly People Suffers From a Mental Health Issue
According to the latest information from the World Health Organization (WHO), approximately 20 percent of people who are over the age of 60 are currently dealing with a mental health disorder or a neurological condition. To put that number into perspective, that means that there are more than 200 million elderly people around the world who have a mental health issue. Unfortunately, many of these people have never received an official diagnosis and they are not in a position to get treatment.
Cognitive Decline, Anxiety, and Mood Disorders are the Most Common Conditions
The Centers for Disease Control and Prevention (CDC) reports that the three most common mental health issues for American seniors are anxiety, mood disorders, and cognitive decline. Of course, within these three relatively broad categories you will find a wide range of specific conditions. Some of the most common examples include:
Depression;

Social anxiety;

Dementia;

Alzheimer's disease; and

Bipolar disorder.
Oftentimes, mental health conditions are related. Indeed, it is not uncommon for an elderly person to be suffering from more than one condition at the same time. For this reason, it is essential that every patient receives a fully individualized assessment. In far too many cases, mental health issues in the elderly are simply not treated.
Mental Health Issues are Chronically Underdiagnosed in the Elderly
Sadly, mental illness in the elderly is systematically underdiagnosed in this country. According to a study published in Health Affairs, more than half of the seniors who are currently dealing with a mental health problem or a neurological condition are not receiving professional medical treatment. To be sure, many people of all ages struggle to get proper mental health treatment. While some real progress has been made, there are still stigmas surrounding mental illnesses.
For seniors, there are also some additional barriers to getting treatment. One of the primary issues is that many well-meaning people view some of the common symptoms of a mental health issue — anxiety, agitation, fear, changes in temperament, forgetfulness, general cognitive decline, etc. — as just a "normal part of the aging process". This is false. If your elderly loved one is showing signs of a mental health issue, they should be evaluated by an experienced mental health professional. Do not make assumptions that your loved one is 'fine'. You do not want them to be another data point in the millions of American seniors who are not receiving adequate care for a mental health issue. 
Who We Serve
Do you have this card?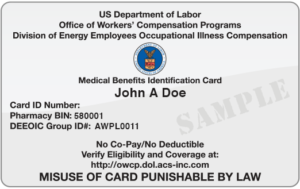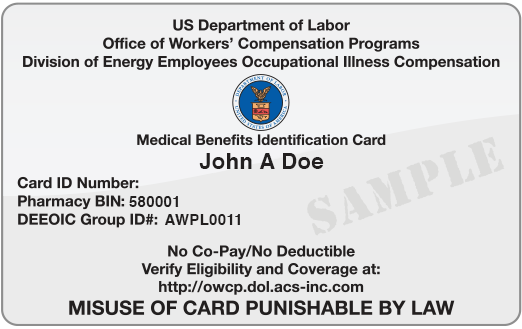 If you already have this card, then you are already approved to receive no-cost medical benefits! Call us to get started today.
In order to be eligible for EEOICPA/RECA benefits, an individual must have been employed at a covered Department of Energy facility, an approved atomic weapons facility, or at a permitted beryllium vendor. An individual must also have one of the covered conditions as a result of exposure to radiation, beryllium, or silica while employed at an accepted facility. In addition, uranium miners, millers, and ore transporters are eligible for benefits if they develop an illness as a result of exposure to toxic substances (such as radiation, chemicals, solvents, acids, and metals) and worked at a facility covered under RECA. Eligibility requirements vary by location and condition.